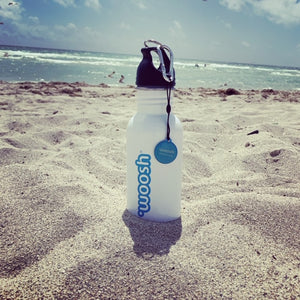 Woosh is changing the way people drink water in public spaces. With a network of Smart Water Stations installed around Miami Beach  it is easy to stay hydrated all day long! 
Woosh offers to refill your bottle with ultra-purified, ice-cold water, instead of buying another single-use plastic bottle that would end up in landfills or the ocean.
Want to use your bottle over and over again? No problem – Woosh stations offer a unique rinsing feature that sanitizes any type of bottle in under 15 seconds. Woosh is quick and sustainable - BYOB. 

Rinse. Refill. Repeat.
BPA Free!